Product Description
Rollerskis de Flexion real gracias al Dynamic Flex System patentado por Quionne . Chassis monocasco de fibra de carbono. Siente el efecto rebote del esquí incluso en verano. Con otros rollerskis los esquiadores se acostumbran a empujar demasiado rápido y fuerte en el rollerski . Esa actitud se corrige con Quionne Dynamic Flex System, consiguiendo empuje homogéneo y la mejor transferencia de nieve.
Entrenando como en la nieve:
Siente el efecto ballesta del esquí también en verano.
Con otros rollerskis el esquiador se acostumbra a empujar demasiado rápido y fuerte en el rollerski con la pierna, porque el asfalto no cede. Ese gesto técnico se corrige con Quionne Massive Flex, consiguiendo un empuje homogéneo y la mejor transferencia a la nieve.
Flexión a medida:
El sistema de flexión de Quionne puede ser personalizado para el peso exacto del esquiador y su preferencia de flexibilidad.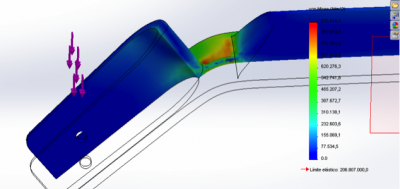 Robusto gracias a la flexión
La zona de flexión logra absorber la fuerza y la distribuye suavemente a lo largo del chasis, logrando de esta manera un rollerski más fiable y duradero.
Todos los chasis Quionne son monocasco de fibra de carbono . Están diseñados para que las tensiones se distribuyan homogéneamente. Debido a esto y a las buenas propiedades de la fibra de carbono frente al estrés, tienen mayor durabilidad que el resto de rollerskis del mercado.

Training like on snow:
Feel the crossbow ski effect even in the summer. With other rollerskis the skiers get used to push too fast and strong on the rollerski with the leg, because asphalt never collapses. That attitude is corrected with Quionne Massive Flex, getting homogeneous push and the best transfer to snow.
All Quionne chassis are full carbon monocoque. The chassis are designed so the tensions are distributed homogeneously. Because of this and the high stress resistance of carbon fiber, our chassis are more durable than metal or wood ones.
We have finished a 2000Km training test with Víctor for the Biathlon World Cup and the Olympic games. After one year the rollerskis are in perfect conditions and continue adding kilometres.
Our rollerskis are designed to be robust and reliable. Other fiber carbon rollerskis are designed to be just light, so they break. We have tested the rollerskis for more than 2000Km in hard conditions and they are still working like first day.
The inside nucleus makes the rollerski be rigid in the middle part, where the foot transmits the force. At the same time the Aircell material absorbs the high frequency vibrations making the rollerski more comfortable for the skier. The down part of the nucleus is round so it does not touch the ground during edging and flexing at the same time.
Choose betwen different slow velocity wheels: Metallic ring and rubber, Quionne patented slow wheel (Aviable soon), Matter high velocity wheel for competitions.
The wheels and bearings can be mounted on the chassis with just one 5mm allen key. All pieces can be fitted into the wheel out of the chassis. After, the wheel can be easily fixed on the chasis with just screwing on each side.